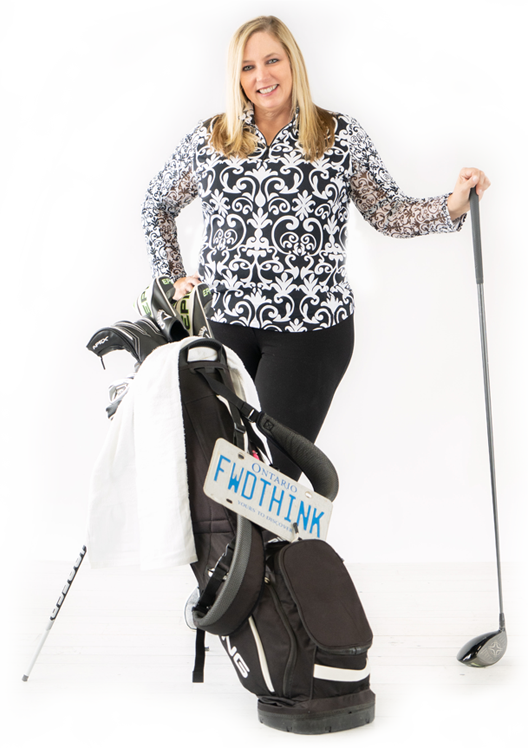 Building a Career From The Golf Course
About Jennifer
About Forward Thinking
About Lessons Learned
Born and raised in Pembroke, Ontario, Canada, Jennifer attended Campbell University in Buies Creek, North Carolina on a golf scholarship. After graduating with a B.A. in Mass Communication, she worked in advertising before deciding to turn professional in golf.
For 10 years, she worked in the golf industry and competed on women's professional tours in Canada, while also working in a variety of communications roles for various projects. In 2006, she decided to start her own business, Forward Thinking Marketing Agency.
The competitive training on the golf circuit prepared her well for becoming a business owner. Every business has highs and lows, and being able to navigate the changing circumstances, including factors beyond your control, are part of the grind of entrepreneurship. That's often how it is in competitive golf; working hard, problem solving and sticking to your own game despite what your fellow competitors are doing.
As an agency in a small town, Jennifer looked after all aspects of the marketing cycle from strategy development to the design of supporting materials, content writing and even being the business representative at key industry events. When multiple businesses had similar issues, she found collective solutions for problems that resulted in the creation of magazines, online job boards, tourism guides and more.
These common marketing challenges would eventually form the foundation of her first book – Forward Thinking for Your Business. Jennifer wrote the book with business owners in mind, using short chapters, getting to the point quickly and using easy-to-understand language and real-business scenarios to illustrate how to think about marketing. The book launched in February 2023.
Behind the scenes
Sometimes, the best takeaways in a person's story come from the challenges and struggles they faced and those defining moments that could have redirected the order of things has a different choice been pursued. Every business owner, and every person, has those moments and they usually prompt some great learnings. For Jennifer, they were:
We all compete, every day, for things that we want. We usually think of competition being about other people, but being competitive is really a solo journey.
If you do anything of any substance, you will always have critics. The goal isn't to silence the critics, but rather to remind you that you are doing something great and to keep going. Brene Brown has the best explanation in this  video. Watch it.
People may not always make the decision that is best for the outcome they are seeking. That's their choice. The most empowering thing you can do for them is to let them make it.
Your entire life can literally change in one year.
You can follow Jennifer at: